The Delegates Seminar Meeting will begin at 8:30 a.m. on Tuesday.  Delegates should be present at 8 a.m. so the meeting can begin promptly.
Tuesday evening's entertainment will be none other than the WBCCI Band, Choir, and Line Dancers.   7:30 on the CC stage.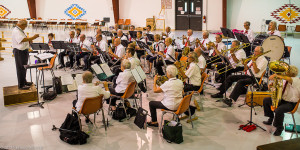 Here's the AUDIO FILE of Code Talker Peter McDonald's hour-long speech to a standing-room only crowd of WBCCI members on June 24.  This is also posted on wbcci.org:  http://wbcci.org/rallies-caravans/international-rally/535-2015-farmington-nm/1531-navajo-code-talker
Additionally, click here for VIDEO of Peter McDonald in case you missed seeing him.
---
What did you do on your free day?  Send your pictures and your stories to rallyupdates@wbcci.net or post them to the Farmington 2015 Rally Facebook page.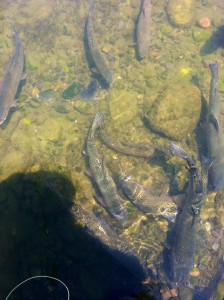 I spent my free day up to my knees in wonderfully cold water on the San Juan River at Texas Hole on Monday.  That black area in the lower left is my shadow.  These are just a few of the 21 foot-long trout that followed me everywhere I went.   They must have known how good I am at fly fishing.  – Carolyn B
Perhaps more than a few members saw these sights today.  New Mexico is such a diverse state.  "Land of Enchantment" is right.
---
The new Monument  of Peace is being picked up this week from the factory in Utah.
Donations are being accepted at the International Rally in Farmington for the Monument of Peace – a WBCCI project that was approved and started in 2012.  Be sure to drop by the display table at the front of the Convention Centre.  Tickets are being sold on a beautiful quilt that was donated by Kay Olsson of the Minnesota Unit.  Tickets are $1.00 each, or 12 for $10.00.  Drop by our table during evening performances and make your donation and purchase your tickets!    The winning ticket for the quilt will be drawn during the Flea Market.  You do not have to be present to win it !
Thanks for your support.
---